Faith Development Coordinator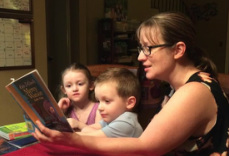 ​Our
Faith Development Coordinator
, Debbie Buehler-Ely, became a Unitarian Universalist after searching for a spiritual home that would not only welcome her family with open arms, but would also allow their children to explore their own spirituality in a loving and supportive environment. She found that and more at River of Grass and now works to create a nurturing religious home for all of the children at River of Grass.
Debbie and her wife, Melissa, have vibrant, spirited twins, who keep them on their toes and remind them to stop and see the beauty in the world around them. Debbie is a registered nurse, working part time while also homeschooling their children.
"Roots hold me close... Wings set me free..."
~ Carolyn McDade
If you have any questions about our Faith Development program,
Debbie can be reached at
FDcoordinator@riverofgrassuu.org
.