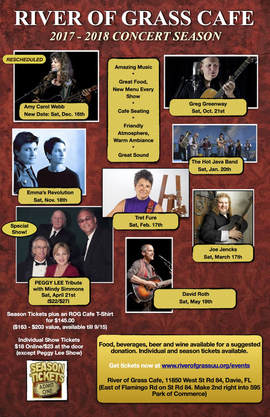 MARK YOUR CALENDARS!River of Grass Cafe'
Concert Series
2017 - 2018 Season
Food and drinks are available at every
concert for a suggested donation. Our gourmet
chefs will be busy preparing varied and
delicious offerings for each show!
For the most up-to-date information,
go to the River of Grass Cafe'
Facebook
page.
For more information or to be added to our mailing list, ​
please contact: concerts@riverofgrassuu.org
​
​All Advance Tickets will be held at the door. All ticket donations are final and non-refundable.
(Note: The PayPal link for "Advance Purchase" will only be active until the day prior to the concert before 3:00 pm.)
---
​Saturday, March 17, 2018, 8:00 pm
​Joe Jencks
"Joe Jencks is the type of musician that will cause you to drop that morning newspaper or pull your car to the side of the road when you hear his songs. He is the type of artist that will turn heads in his direction when he walks onto a stage. His voice will instantly draw you into his passionate songs. He is the type of musician whose music will become a part of you." -Ron Olesko, WFDU –FM Teaneck, NJ
​Joe Jencks is an international touring performer, songwriter, entertainer, and educator, based in Chicago, IL. From venues like Carnegie Hall and Lincoln Center in New York, to coffee houses, festivals, spiritual communities, and schools, Joe Jencks has spent the last 18 years touring full time. His songs have traveled to every continent via his own performances, radio, CDs, web casts, and other musicians. He is noted for his unique merging of musical beauty, social consciousness, and spiritual exploration. Jencks weaves a diverse web of stories with brilliant musical skill, ensnaring even the most rigid of hearts, inviting them to open. His songs invite us to live inside of our passions and our beliefs.
On the stage, in the studio, or in the classroom, Jencks applies conservatory training to contemporary genres, bridging styles and techniques. Drawing on his Irish heritage (dual U.S./Irish Citizen), Jencks uses his lyrical voice to enchant, heal, and inspire. Jencks has won numerous songwriting awards and is also highly regarded as a song interpreter. Joe's latest solo release, Links In A Chain, highlights this aspect of his work.
Joe's release
The Candle And The Flame
, gained international acclaim and also made it to the top of the Folk charts in the US. This recording combines many facets of Joe's diverse musical background and weaves them all together in an aural tapestry that is warm and exquisite. Jencks has the passion of a Gospel singer, the knowledge of a classical vocalist, and the soul of an Irish Tenor. And at the center of Joe's music is an abiding love for humanity that transcends the everyday and boarders on the mystical.
Suggested Ticket Donation Price: $23 at the door

---
​Saturday, April 21, 2018, 8:00 pm
​Mindy Simmons - The Peggy Lee Tribute Show
Mindy Simmons takes you on a trip down memory lane as she recreates the look and sound of an evening spent with the late, great Miss Peggy Lee. Sharing the songs and stories of Miss Lee's career, Mindy emulates a performance style of earlier years in entertainment when the music was subtle in dynamics and the lyrics could be heard and understood.
With a Jazz combo behind her, Mindy Simmons brings the hit songs of Peggy Lee's 45 year career to life. She shares with the audience the classy, very sultry, and sometimes surprisingly funny side of Miss Lee's personality. This is a show not to be missed!
Mindy has been told by total strangers for much of her life that she looked very much like Peggy Lee. In order for her interpretation of Peggy to be believable, MIndy studied her cadence and style extensively.
​Here's what one patron had to say...
"Mindy Simmons displayed an artistry that has evolved over the last two decades. Her timing and intonation, the subtle moves and lovely arrangements brought the audience back in time to when music was heard only on the radio and in 'live' settings. Mindy flowed through the evening mixing humor and emotion with style and grace. She made it look easy, the mark of the professional. The audience was thrilled and gave Mindy a standing O."
- David, Miami, Florida
Suggested Ticket Donation Price: $22 Advance Purchase / $27 at the door
​Click below to purchase ticket(s):
(Note: The PayPal link for "Advance Purchase" will only be active until the day prior to the concert before 3:00 pm.)
---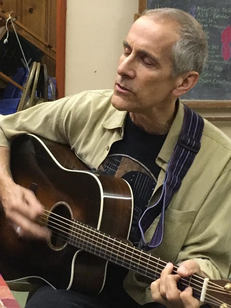 Saturday, May 19, 2018, 8:00 pm
​David Roth
David Roth strikes many chords, hearts, and minds with his unique songs, offbeat observations, moving stories, sense of the hilarious, and powerful singing and subject matter. As singer, songwriter, recording artist, keynote speaker, workshop leader, and instructor, David has earned top honors at premier songwriter competitions (Kerrville,TX and Falcon Ridge, NY) – and taken his music, experience, and expertise to a wide variety of venues in this and other countries full-time for three decades.
David's songs ("Rising in Love", "Earth", "Manuel Garcia", "May the Light of Love", "Nine Gold Medals", "Spacesuits", "Rocket Science", "I Stand for Love", "That Kind of Grace", and many more) have found their way to Carnegie Hall, the United Nations, several Chicken Soup for the Soul books, the Kennedy Center, Peter, Paul, & Mary and Kingston Trio CDs, NASA's Goddard Space Center ("Rocket Science" went up on the Space Shuttle Atlantis's May 2009 mission to repair the Hubble Telescope), the iconic folk song books "Rise Up Singing" and "Rise Again" (sequel), and 15 CDs on the Wind River and Stockfisch (Germany) labels. Winner of 4 Positive Music Awards and the 2015 Grace Note (Unity Worldwide Ministries) for Outstanding Contribution to New Thought Music, David has also been featured on many of Christine Lavin's seminal Rounder Records compilations. The former artist-in-residence at New York's Omega Institute has also been a songwriting judge at Kerrville, Napa Valley (CA), Tumbleweed (WA), Eventide Arts (MA), the Avalon Festival (WV), the Rhode island Songwriters Association, and the South Florida Folk Festival.
David has also taught singing, songwriting, and performance at the Augusta Heritage workshops, SummerSongs and WinterSongs (NY), Common Ground on the Hill (MD), the Woods Dance & Music Camp (Canada), WUMB's Summer Acoustic Music Week (NH), Moab Folk Camp (UT), Rowe Center (MA), Pendle Hill (PA), Lamb's Retreat (MI), the Swannanoa Gathering (NC), the National Wellness Institute (WI), and for many other songwriting groups and associations around the country. David is also founder/director of the Cape Cod Songwriters Retreat and creator/host of Cape Cod's "Full Moon Open Mic" which, for the past 12 years has provided a forum for musicians to connect and be heard while at the same time collecting donations ($14,000 to date) for local non-profits to help neighbors in need.
"David has reached our hearts. With voices like his still singing, there's a certainty that the candle will remain lit, the hope reasserted and the dream still sung." - Peter Yarrow (Peter, Paul and Mary)
"David and his music will touch you to the very depths of your soul. He'll make you laugh and cry, inspire you to rise and fly." - Jack Canfield, co-author, Chicken Soup for the Soul
Suggested Ticket Donation Price: $18 Advance Purchase / $23 at the door
​Click below to purchase ticket(s):
(Note: The PayPal link for "Advance Purchase" will only be active until the day prior to the concert before 3:00 pm.)
---