Black Lives Matter
​

---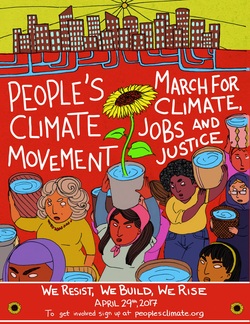 People's Climate March Broward
Saturday, April 29, 2017
2:00 - 6:00 pm
George English Park
1101 Bayview Drive
Fort Lauderdale, FL 33304

People's Climate March Broward invite you to join us for a peaceful rally and march promoting awareness of climate change and its effects on the environment in South Florida. Many important topics will be addressed by a variety of groups with emphasis on our local message of how climate change impacts water in all communities. Bring your signs promoting your own special messages in the shape of a circle which will be representative of our circles of resistance! This is a family friendly event!!!

---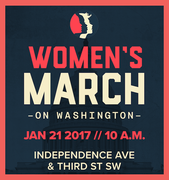 Women's March on Washington - National March and Local (Miami) Rally
Saturday, January 21, 2017

Women's March Statement: The rhetoric of the past couple of months has insulted, demonized, and threatened many of us - immigrants of all statuses, Muslims and those of diverse religious faiths, people who identify as LGBTQIA, Native people, Black and Brown people, people with disabilities, survivors of sexual assault - and our communities are hurting and scared. We are confronted with the question of how to move forward in the face of national and international concern and fear.

In the spirit of democracy and honoring the champions of human rights, dignity, and justice who have come before us, we join in diversity to show our presence in numbers too great to ignore. The Women's March on Washington will send a bold message to our new government on their first day in office, and to the world that women's rights are human rights. We stand together, recognizing that defending the most marginalized among us is defending all of us.

Join River of Grass - either in Washington DC or in Miami. For more information, contact: sharedministry@riverofgrassuu.org (for the Miami Rally) OR minister@riverofgrassuu..org (for the Washington DC Rally and March).

---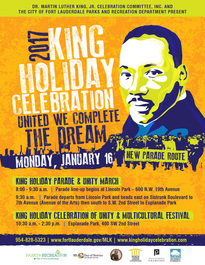 Martin Luther King, Jr. Holiday Celebration:
United We Complete the Dream

Monday, January 16, 2017 (see below for times)

KING HOLIDAY PARADE & UNITY MARCH
8:00 a.m. - Parade Line-up at Lincoln Park – 600 N.W. 19th Avenue
9:30 a.m. - Parade proceeds east on Sistrunk Boulevard, south on 7th Avenue to Esplanade Park at 400 S.W. 2nd Street for the Multicultural Festival and Teen Trailblazers Awards immediately following the parade.

KING HOLIDAY CELEBRATION OF UNITY & MULTICULTURAL FESTIVAL
10:30 a.m. - 2:30 p.m. | Esplanade Park, 400 SW 2nd Street


---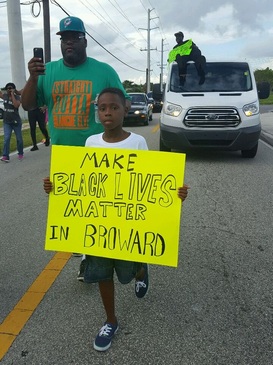 Broward County Jail: Make Some Noise
Sunday, Dec. 18, 2016 at 5PMHosted by: BLM Alliance Broward
The Black Lives Matter Alliance Broward is having a noise demonstration in solidarity with people in prison, including Dayonte Resiles. They urge us to "Come out and show your support."
The demonstration starts in Huizienga Park, South Andrews and Las Olas Blvd.
According to the Alliance:
"Many people think of one thing when they think of a Black Lives Matter protest: a passionate, defiant response to a black life that was recently lost. Truthfully, it has rarely been that simple. The presidential election, and even the recent mistrials of the killers of Freddie Gray and Walter Scott, strongly imply that things may never be the same again.
We are gathering once more to show solidarity with the living. One of the most inspiring things the Alliance has introduced people to this year is jail solidarity. Therefore, we're marching one more time on Broward County Jail to hold a noise demo for those inside. We're advocating for
Dayonte Resiles, a young black man who the State Attorney's Office is trying to execute on shaky evidence.
For Tyler Shuman, who is being charged with 2nd degree murder over
the officer-involved shooting death of his friend, Michael Wilson
.
As the Sun Sentinel recently reported,
there are far more people suffering inside the Broward Count Jail system than anyone acknowledges, and we demand the rights of the thousands of people caught in this system be protected. Well before this report, 2
friends of ours
were badly brutalized by Broward Main Jail guards this year alone. We will march and make some noise to end mass incarceration in Broward County.
We will march for racial and economic inequality, the attack on our civil liberties, affordable healthcare, quality education for all, environmental protection, and so much more. Hate crimes have already skyrocketed in the past month, and even in "liberal" Broward County, recent incidents have people worried. The Alliance has stood with victims of racist attacks for some time now and will continue to do so.
We gather for black lives lost, yes – but we also organize for more than something that can be described in a single protest chant. For 2 years now, #BLM954 has led a rising tide of activism in Broward County that changed the way people here think about protest."
---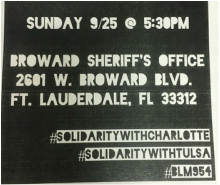 Black Lives Matter/Broward Alliance
has organized a protest in solidarity with Tulsa, OK and Charlotte , NC at the Broward Sheriff's Office Main Building at 2601 West Broward Blvd, Fort Lauderdale on Sunday, September 25th at
5:30pm.
Per the event page: "This is strictly a non-violent, non-combative event. We will have legal aids, police liaisons, folks leading the rally, and people trained to monitor the surroundings."
Show UP! #BLM954
---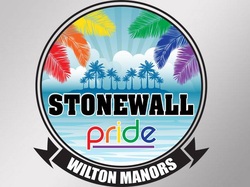 COME JOIN US! On Saturday, June 18th, join the River of Grass UU Congregation and the UU Church of Fort Lauderdale as we commemorate Stonewall, celebrate GLBTQ pride, and remember the lives lost in Orlando.

Please be sure to be there by 5:30 pm as the parade starts at 6:00 pm. Come march with your UU friends!! This year's parade will start from the south end of Wilton Drive. SEE YOU THERE!!


---
---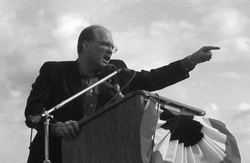 David Cobb
will be speaking at
River of Grass as part of his National Barnstorming Tour on Thursday, January 7, 2016 at 7 pm
. David Cobb is Outreach Director of Move to Amend (
https://movetoamend.org/
). He is one of the founders of Move to Amend and one of the authors of the We the People Amendment.
David Cobb, is a lifelong activist, and is visiting
River of Grass
in an effort to build connections, inspire activism, and reveal the origins of corporate power in America. Move to Amend is a national coalition of over 400,000 people and organizations whose goal is amending the United States Constitution to end corporate rule by building a multiracial, cross-class democracy movement, and by establishing that corporations are not people and money is not speech. River of Grass has endorsed Move to Amend with a Resolution that we passed at our Annual Meeting two years ago.
David is a lawyer and political activist. David has sued corporate polluters, lobbied elected officials, run for political office himself, and has been arrested for non-violent civil disobedience. He truly believes we must use ALL the tools in the toolbox to effect the systemic social change we so desperately need.
In 2002 David ran for Attorney General of Texas, pledging to use the office to revoke the charters of corporations that repeatedly violate health, safety and environmental laws. He did not win the office, but the Green Party of Texas grew dramatically during his campaign from four local chapters to twenty-six. In 2004, he ran for President of the United States on the Green Party ticket and successfully campaigned for the Ohio recount.
---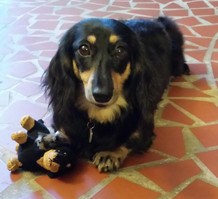 Blessing of the Animals Sunday Service
On
Sunday, October 25, 2015
, The River of Grass Unitarian Universalist Congregation invites the public, pet owners and animal lovers to the popular
Blessing of Animals
to be held from 10:30 am to 12:00 pm. For this service for all ages, participants are welcome to bring their well-behaved pets, photos of pets, ashes or stuffed toys or other symbols of their beloved animal family for the blessing. Guests are encouraged to bring pet food donations for area animal shelters.
Reverend Amy Carol Webb said about the event, "
Unitarian Universalists honor all life in the interdependent web of all being, not just people. All are welcome to participate, human, fur, feathers or scales."
(Live animals must be on leashes or in carriers. Those with pet allergies may want to take an allergy medicine ahead of time.)
---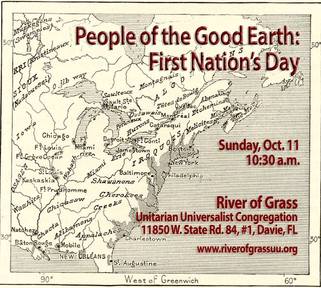 Sunday, October 11, 2015

Learn more about First Nation's Day
(instead of Columbus Day)!
"Tekesta" means "We, the people of the good earth"-- and theirs was the land upon which the town of Davie, and our River of Grass UU Congregation home, is built.
"People of the Good Earth:

First Nation's Day"
RoG UU Congregation
Sunday, Oct. 11th, 2017, 10:30 a.m.