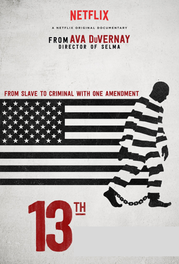 Join us as we view and discuss - 13th - a documentary about
mass incarceration, race, and justice in the US.

Monday, June 4, at 7:00 pm at River of Grass UU Congregation

Powerful, infuriating and, at times, overwhelming, Ava DuVernay's documentary "13th" will get your blood boiling and tear ducts leaking. It shakes you up, but it also challenges your ideas about the intersection of race, justice, and mass incarceration in the United States, subject matter that could not sound less cinematic. Yet Ms. DuVernay — best known for "Selma," and a filmmaker whose art has become increasingly inseparable from her activism — has made a movie that's as timely as the latest Black Lives Matter protest.
- New York Times Critic's Pick, Sept. 29, 2016
The movie hinges on the 13th Amendment, as the title indicates, in ways that may be surprising. Ratified in 1865, the amendment states in full: "Neither slavery nor involuntary servitude, except as a punishment for crime whereof the party shall have been duly convicted, shall exist within the United States, or any place subject to their jurisdiction." As Ms. Alexander underscores, slavery was abolished for everyone except criminals.
- New York Times Critic's Pick, Sept. 29, 2016

For more information or to reserve your spot for this free event, please contact Kathy at SSJC@riverofgrassuu.org

---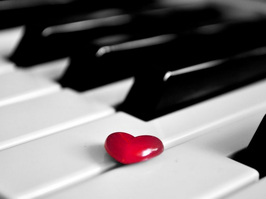 If you missed the recent
Love at the River
special event (or would like to re-live it), you can watch all the performances by our talented and diverse River of Grass artists by clicking on this
link
.
Feel free to enjoy it again and again, whenever you need a little joy in your life!
(A special thanks goes to Allen Giese for capturing this amazing evening on video. It's almost like being there!)
Are you in need of a little love? Find Love at the River!Date: Saturday, February 4 at 7:00 pm at River of Grass. –
Celebrate all the love we have at the River. The RoG Choir invites you to our special cabaret evening with special soloists and amazing artists! You will be dazzled by extraordinary ensembles from the choir as they sing their favorite love songs, to a barbershop quartet group, and plenty of poetry and love. You will be wined, dined and serenaded to fill you to the brim with love.