Rites of Passage
​

The Rites of Passage programs were conceived as a path for our children to learn and grow in their spiritual development and their understanding of Unitarian Universalism.
Rites of passage are programs of choice. It is up to the child and his/her parent to determine if they want to participate. Although there is an age range, special arrangements can be made for children who fall outside the grade categories. These programs occur every other year.
For more information, please contact
Debbie Buehler-Ely
, Faith Development Coordinator at:
FDCoordinator@riverofgrassuu.org
Principle Pals
Early Elementary
This program teaches children about the seven principles of our faith tradition. Through discussions and activities that relate to each principle, these lessons will be the foundation for their ongoing spiritual journey.


​Kindlers of the Flame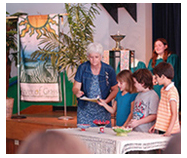 Late Elementary
This program teaches our children about the history and meaning of our Chalice, supports families in nurturing the chalice lighting at home, and prepares children to be Kindlers of the Flame during service. (Typically, children serve 2 to 3 years as Kindlers of the Flame.)

Affirmation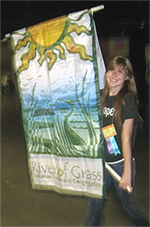 Teens
Growing into maturity is a momentous occasion in many religions, and Unitarian Universalism is no different. Our participants will be challenged to reflect, articulate, and practice their UU faith. Our program consists of four parts: pairing youth with adult mentors, discussions and retreats that emphasize self-awareness and UU identity, service to the congregation and community, and a culminating affirmation ceremony.